STRETCH FILM ANTI-STATIC AND ANTI-RUST
Antistaic Stretch Film
Anti static stretch film is specially made to protect electronic and flammable products. It is used to make these instruments safe from static discharge. It is used for the products and parts that are sensitive to static electricity It is available in hand roll and machine grade films.
VCI / Anti-Rust Stretch Film
Stretch film is a plastic film used to secure, bundle, and stabilize products. Stretch film is made from linear low-density polyethylene. When applying the film is to be pulled and stretched around products to obtain tight and secured product loads. Stretch film comes in a variety of widths, thicknesses, and colors.
We offer multiple varieties of stretch film to choose from in a wide array of widths and thicknesses. We ensuring the  highest quality possible.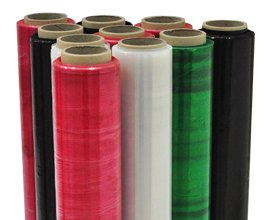 Colored Stretch Film
Plank Foam are excellent for cushioning and shipping heavy items. Custom sizes of foam plank can be developed to offer exceptional shock absorption and vibration dampening.
Hand Roll / Machine Roll / Non-Cling
Hand Rolls
Manual wrapping is in many cases the easiest and most efficient packaging.
Machine Rolls
Machine roll is produced in a variety of thicknesses and widths. Our range machine roll, possess excellent strength, puncture resistance and stretch performance, as well as clarity.
Non-Cling Stretch Film
Non-Cling Stretch film width 1.0- 2.0m with custom made length stretch film. Suitable to wrapping big items, machinery, furniture etc.
Handy Wrap/ Baby-Roll
Handy wrap/baby-roll are perfect for bundling a variety of smaller items. Quick and easy to use, affordable, reliable packaging solutions.
Custom Printed Stretch Film
Custom Printed Stretch wrap can simply and affordably identify stretch wrapped loads and their origins. It can also be used to supply contact information or storage and transportation instruction.